QIXING CEE/IEC International Stnadard
Conform to European/International Standards EN/IEC 60309-2
With CE CB CCC ISO9001 Certi
IP44 ECC 32A 3 Pins Blue Industrial Connector
Product Description
This kind of industrial plug is a new generation connector apparatus for power connecting, and with competitive price, has the features such as security & reliability.They are used widely in the place such as steel smelt, petrochemical processing, electric power, electronic, railway, building ground, airport, mine.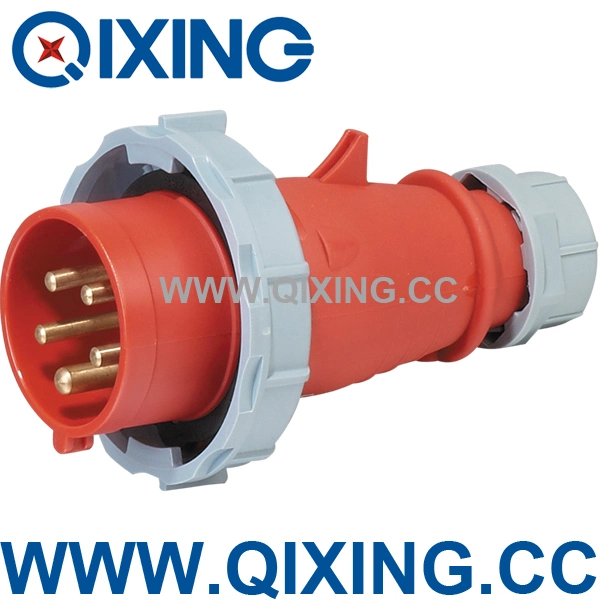 Company Information
OIXING electric technology company found in 2005, we are the professional industrial plug and socket manufacturer, we are engaged in R&D, produce, and sales all kind of industrial plug and socket. Our productions met a series of certifications such as CCC/CE/CB/SAA/UL and so on.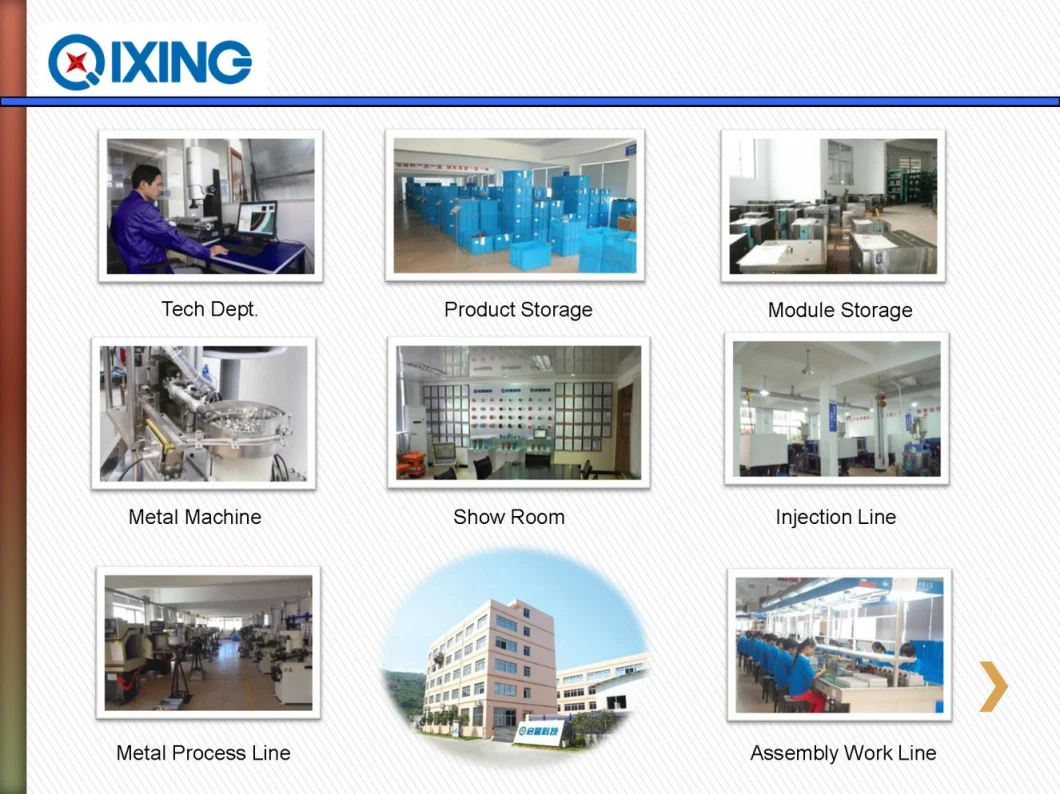 Total Employee: 110
Administrative Staff: 23
QC Team: 9
R&D Team: 5
Manufacturing Worker: 73
History:
2005: QIXING electric technology company's original company team found. We started to pay our attention on studying and marketing industrial socket and plug.
2006: QIXING had been designing and developing high-end industrial socket and plug.
2008: QIXING developed various series of industrial plugs and sockets and we expanded our market actively.
2009: Our products met a series of certification standards, such as CCC/CE/CB/SAA/CCC and so on. That year, our company was moved to Panshi Town.
2010: QIXING start to present Canton Fair and start to expanded overseas business.
2011: QIXING passed ISO90001, we established Cooperative with some world famous company. QIXING Industrial plug and Socket start to export to over the world.
2012: QIXING became one of the star companies in Yueqixing City, and QIXING started to Present some oversea business fair like Hannover Messe.
2013: We purchasing some new testing and manufacturing equipment, added tow more professional work line.
2014.: QIXING purchased a new land, started to build a new factory.
Further: We are waiting for your enjoy us, expand the Industrial Plug and Socket marketing together.
Inspection
QIXING company have own laboratory. For avoid the quality we might have, all of QIXING product need to do the inspection before we make the product.
All of our industrial plug, industrial socket, panel mounted plug, panel mounted socket, wall mounted plug, wall mounted socket and the other product will accept the inspection such as Rainfall Test, CTI/PTI Test Temperature-Rise Test, High and Low Temperature Test, Glow Wire Test and so on. There are over 50 test programs in our laboratory to keep every QIXING product is reliable.
Temperature-rise Test
The production which we designed and developed satisfied the heating index of production used in long time with rated current, in order to make the production has the more excellent electrical performance. And our temperature-rise tester has engaged in testing mechanical life and electrical life, can easily and fast doing many types of tests and widely used.
Sand and Dust Test
Due to we produced the goods can be used all over the world, one thing we must be considerate when we produce the production, the production use environment, we need to evaluate the flexible conditions of environment for store, deliver and using in the drying-sands or surrounding with lots of dusts. The sand and dust test adopted the manual simulation sand and dust environment to test the production ability of prevent ability and make sure that this kind of production can be long-term used in rugged environment.
Glow Wire Test
Ii is widely known that the fire disaster is harmful people a lot, in modern life the fire disaster caused by the electronic equipment is rising. The components of the electrical equipment can be start burning caused by the components overload and the bad contact. The glow wire test adopted the simulation technique to evaluate the the fire risk of thermal stress in the short time caused by the hot element and overload resistance or such hot material.
Rainfall Test
We all know that the production no matter it in the storage or working situation it will influenced by all kinds of liquid from the different degree, when it suffers all kinds of strength from the water, causing all kinds influence to the production's material and performance,more worse the production structure will be broken. The aim of the rainfall test is to make sure that the shell of the production can work steadily and reliably when it suffer all kinds of erosion from the liquid.
Sold over the world
QIXING Industrial Plug and Socket are sold over the world.
Every day, we get the order from every country. Both of same company or big films all like order they need form our company. Once you have contact, we will be good friend forever, once you cooperation, we are good partner. Let's extend the marketing together, let's accelerate world's development together.
Qualifications And Honors
UL CCC CE CB ISO9001 SAA S
Confirm to EN/IEC60309-2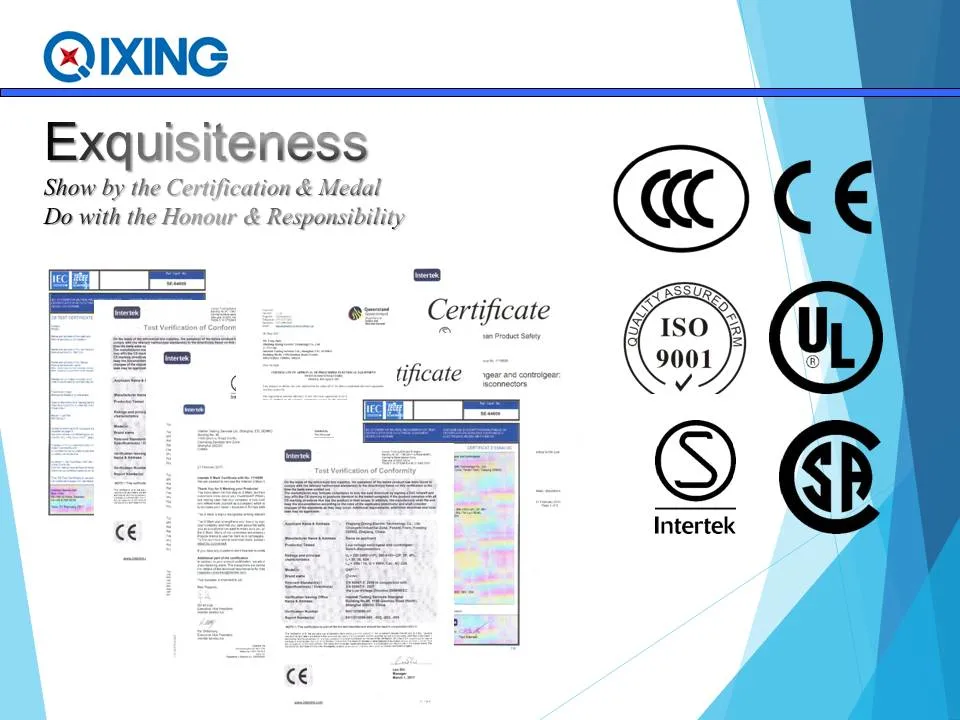 Application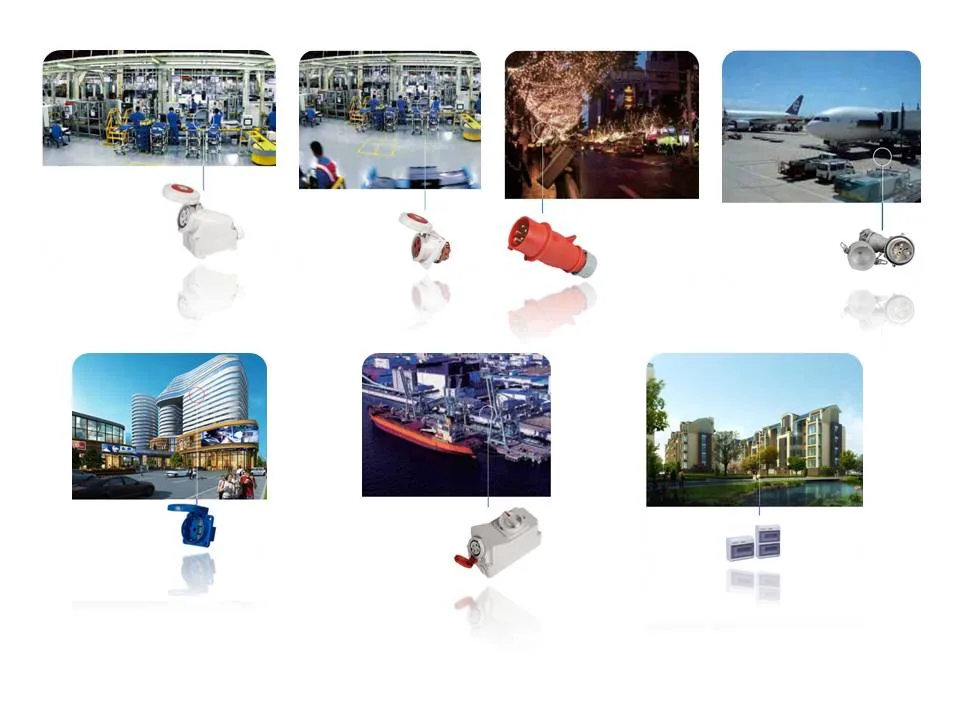 Petrochemical Engineering, Mineral Industry, Electric Power
Railway, Airport, Mine Diggings, Construction site, Wharf
Water treatment plant
Hotel, Shopping Mall, House
FAQ
Q1: What the Certification do you get for this product?
A1: We have passed the CCC CE CB certifications.
Q2: What is your delivery term?
A2: The deliver term is based on order quantity. Normally, we can produce 3,000-5,000 pcs of production every day.
Q3: What is your MOQ (Minimum of Quantity)?
A3: Normally, our MOQ is USD $10,000. However, based on the customer detail order, we can adjust our MOQ, for the small order, we can accept with additional USD $250 Export charge. For the Express Order, we can accept without additional charge.
Q4: What is your payment term?
A4: We accept 100% T/T payment for advance payment in generally.
For the first cooperation, we can accept 30% for advance payment, 70% for balance before shipping the goods.
Q5: Which trade clause do you use?
A5: We use FOB Ningbo by sea forwarder. FOB Shanghai by air forwarder. Other way, we can discuss by e-mail.
Q6: Could I use your product in extreme weather?
A6: QIXING Industrial Plug and Socket can work in -30ºC to 80ºC. Also, QIXING products have good resistance to acid and alkali. So, whatever desert and polar, QIXING industrial plug and socket can be qualified.
Q7. What kind of testing do you do for your Industrial Plug and Socket?
A7: Too keep QIXING Mark are reliable, we use our own laboratory to testing our product. We have pass the Temperature rise test, CTI/PTI Test, Sand and Dust Test, Rainfall Test, Insertion and Extraction Force Test, High and Low Temperature Test, Glow Wire Test and so on. We have over 50 testing machine in our company to make the high quality of our product.
Q8: How long is your warranty?
A8: We accept 1 year warranty.
Q9: How to contact with you?
A9: Phone Number: +86-577-62836826
Cell Phone: +86-189 5776 2155
Website: zjqixing.en.made-in-china.com
Q10: Why is QIXING?
A10: QIXING Company are a professional manufacturer in R&D, produce, and sales industrial plugs and sockets over 10 years. We have rich experience in industrial plug and socket area. Furthermore, QIXING have 3 classes: High-ending, Economic and Ordinary to meet whatever demands of marketing.
QIXING Product Series
IP44 CEE/IEC Industrial Plug With CE CB Certification
IP67 CEE/IEC Industrial Plug With CE CB Certification
IP44 CEE/IEC Industrial Connector With CE CB Certification
IP67 CEE/IEC Industrial Connector With CE CB Certification
IP44 CEE/IEC Panel Straight Mounted Socket With CE CB Certification
IP67 CEE/IEC Panel Straight Mounted Socket With CE CB Certification
IP44 CEE/IEC Panel Angle Mounted Socket With CE CB Certification
IP67 High End CEE/IEC Panel Angle Mounted Socket With CE CB Certification
IP44 CEE/IEC Panel Mounted Plug With CE CB Certification
IP67 CEE/IEC Panel Mounted Plug With CE CB Certification
IP44 CEE/IEC Wall Mounted Plug With CE CB Certification
IP67 CEE/IEC Wall Mounted Plug With CE CB Certification
IP44 CEE/IEC Wall Mounted Socket With CE CB Certification
IP67 CEE/IEC Wall Mounted Socket With CE CB Certification
IP44 CEE/IEC Socket with Switches and Mechanical Interlock With CE CB Certification
IP67 CEE/IEC Socket with Switches and Mechanical Interlock With CE CB Certification
IP66 CEE/IEC Standard Large Amp Plug and Socket for 250A and 420A With CE CB Certification
IP44 CEE/IEC Standard Low Voltage Plug With CE CB Certification
IP44 CEE/IEC Standard Low Voltage Socket With CE CB Certification
IP44 CEE/IEC Standard Low Voltage Connector With CE CB Certification
IP53 CEE/IEC Standard SCHUKO Plug With CE CB Certification
IP53 CEE/IEC Standard SCHUKO Socket With CE CB Certification
IP53 CEE/IEC Standard SCHUKO Connector With CE CB Certification
IP44 CEE/IEC Standard Multi-Function Socket With CE CB Certification
IP67 CEE/IEC Standard Multi-Function Socket With CE CB Certification
Plastic Multistep Combination Socket Box by Customer-make
Plastic Power Combination Socket Box by Customer-make
Stainless Steel Power Combination Socket Box
Power Distribution Box for Housing
IP66 Isolating Switch with CE CB SAA Certification
IP44 CEE/IEC Industrial Plug With CE CB Certification
IP67 CEE/IEC Industrial Plug With CE CB Certification
IP44 CEE/IEC Industrial Connector With CE CB Certification
IP67 CEE/IEC Industrial Connector With CE CB Certification
IP44 CEE/IEC Panel Straight Mounted Socket With CE CB Certification
IP67 CEE/IEC Panel Straight Mounted Socket With CE CB Certification
IP44 CEE/IEC Panel Angle Mounted Socket With CE CB Certification
IP67 High End CEE/IEC Panel Angle Mounted Socket With CE CB Certification
IP44 CEE/IEC Panel Mounted Plug With CE CB Certification
IP67 CEE/IEC Panel Mounted Plug With CE CB Certification
IP44 CEE/IEC Wall Mounted Plug With CE CB Certification
IP67 CEE/IEC Wall Mounted Plug With CE CB Certification
IP44 CEE/IEC Wall Mounted Socket With CE CB Certification
IP67 CEE/IEC Wall Mounted Socket With CE CB Certification
IP44 CEE/IEC Socket with Switches and Mechanical Interlock With CE CB Certification
IP67 CEE/IEC Socket with Switches and Mechanical Interlock With CE CB Certification
IP66 CEE/IEC Standard Large Amp Plug and Socket for 250A and 420A With CE CB Certification
IP44 CEE/IEC Standard Low Voltage Plug With CE CB Certification
IP44 CEE/IEC Standard Low Voltage Socket With CE CB Certification
IP44 CEE/IEC Standard Low Voltage Connector With CE CB Certification
IP53 CEE/IEC Standard SCHUKO Plug With CE CB Certification
IP53 CEE/IEC Standard SCHUKO Socket With CE CB Certification
IP53 CEE/IEC Standard SCHUKO Connector With CE CB Certification
IP44 CEE/IEC Standard Multi-Function Socket With CE CB Certification
IP67 CEE/IEC Standard Multi-Function Socket With CE CB Certification
Plastic Multistep Combination Socket Box by Customer-make
Plastic Power Combination Socket Box by Customer-make
Stainless Steel Power Combination Socket Box
Power Distribution Box for Housing
IP66 Isolating Switch with CE CB SAA Certification
IP44 CEE/IEC Industrial Plug With CE CB Certification
IP67 CEE/IEC Industrial Plug With CE CB Certification
IP44 CEE/IEC Industrial Connector With CE CB Certification
IP67 CEE/IEC Industrial Connector With CE CB Certification
IP44 CEE/IEC Panel Straight Mounted Socket With CE CB Certification
IP67 CEE/IEC Panel Straight Mounted Socket With CE CB Certification
IP44 CEE/IEC Panel Angle Mounted Socket With CE CB Certification
IP67 High End CEE/IEC Panel Angle Mounted Socket With CE CB Certification
IP44 CEE/IEC Panel Mounted Plug With CE CB Certification
IP67 CEE/IEC Panel Mounted Plug With CE CB Certification
IP44 CEE/IEC Wall Mounted Plug With CE CB Certification
IP67 CEE/IEC Wall Mounted Plug With CE CB Certification
IP44 CEE/IEC Wall Mounted Socket With CE CB Certification
IP67 CEE/IEC Wall Mounted Socket With CE CB Certification
IP44 CEE/IEC Socket with Switches and Mechanical Interlock With CE CB Certification
IP67 CEE/IEC Socket with Switches and Mechanical Interlock With CE CB Certification
IP66 CEE/IEC Standard Large Amp Plug and Socket for 250A and 420A With CE CB Certification
IP44 CEE/IEC Standard Low Voltage Plug With CE CB Certification
IP44 CEE/IEC Standard Low Voltage Socket With CE CB Certification
IP44 CEE/IEC Standard Low Voltage Connector With CE CB Certification
IP53 CEE/IEC Standard SCHUKO Plug With CE CB Certification
IP53 CEE/IEC Standard SCHUKO Socket With CE CB Certification
IP53 CEE/IEC Standard SCHUKO Connector With CE CB Certification
IP44 CEE/IEC Standard Multi-Function Socket With CE CB Certification
IP67 CEE/IEC Standard Multi-Function Socket With CE CB Certification
Plastic Multistep Combination Socket Box by Customer-make
Plastic Power Combination Socket Box by Customer-make
Stainless Steel Power Combination Socket Box
Power Distribution Box for Housing
IP66 Isolating Switch with CE CB SAA Certification